eGov Dialogues | Digitalisation of FSM value chain
June 20
|
2:00 pm
–
3:00 pm
IST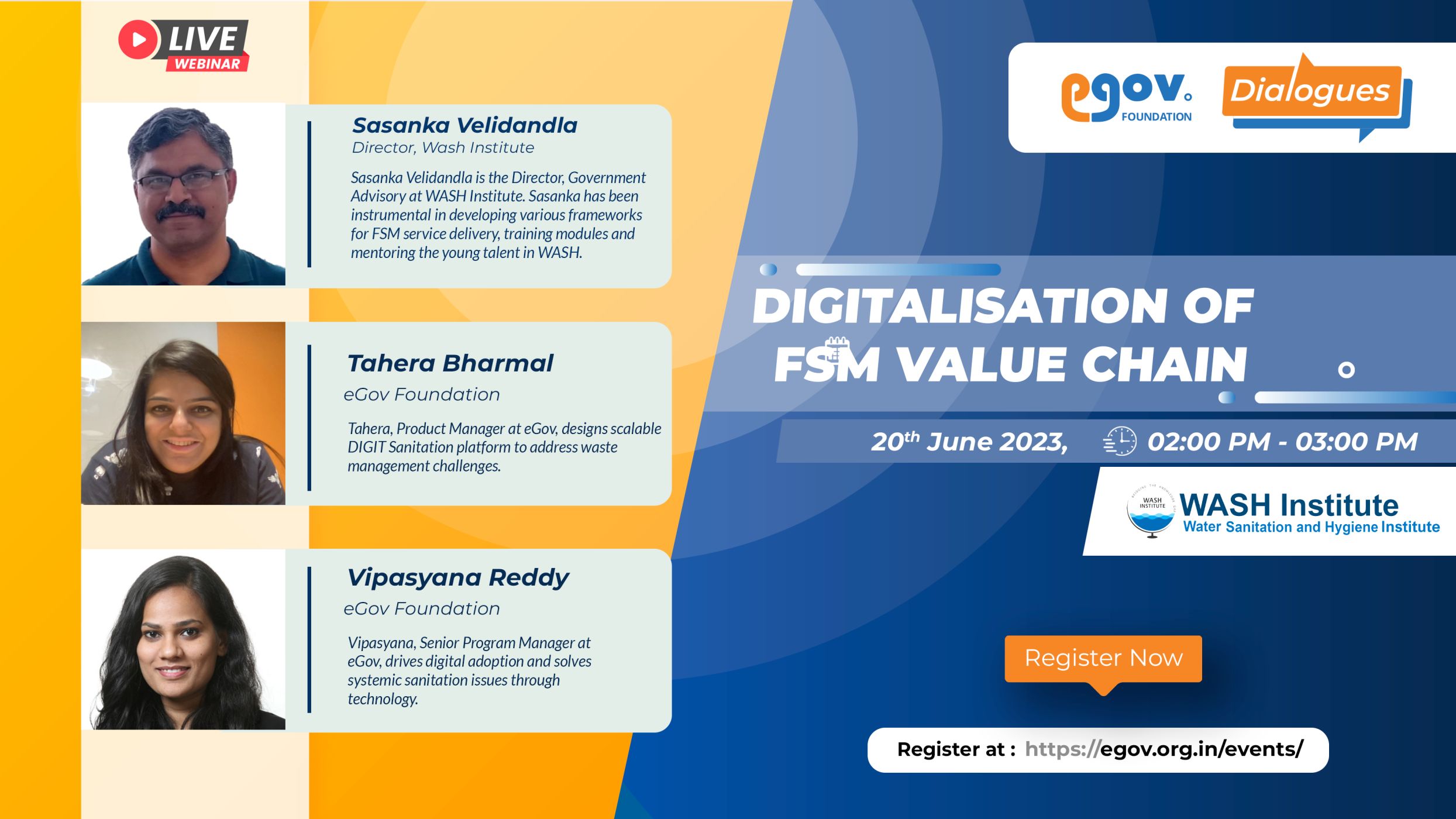 Event Description:
According to the United Nations, only 54 percent of the global population had access to safely managed sanitation in 2020. This alarming statistic emphasizes the urgent need for innovative approaches to safeguard public health, protect the environment, and promote a cleaner living environment.
Join us for an insightful webinar as we delve into the pressing global issue of Fecal Sludge Management (FSM) and explore how digital solutions can tackle the systemic challenges in this critical sector. During the session, we will discuss the multifaceted steps involved in FSM, ranging from containment to transportation, safe treatment, and reuse or disposal.
Speakers:
Sasanka Velidandla is the Director, Government Advisory at WASH Institute. With close to 15 years of experience in WASH sector, Sasanka has been instrumental in developing various frameworks for FSM service delivery, training modules and mentoring the young talent
Tahera is a Product Manager (Sanitation mission) at eGov Foundation. Her work involves design of the DIGIT Sanitation platform that is scalable, interoperable and built to eliminate the existing problems with the solution based approach to enable scale @speed across waste steams and business models. Prior to this, she has worked with various enterprises to design their digital transformation roadmaps using emerging technologies.  She is a Young India Fellow and holds a degree in economics from Symbiosis.
Vipasyana Reddy, Senior Program Manager at eGov Foundation works on solving systemic issues in Sanitation through Digital Public Goods with a key focus on driving digital adoption in the sector