Help countries achieve health SDGs by building public digital goods that
strengthen public health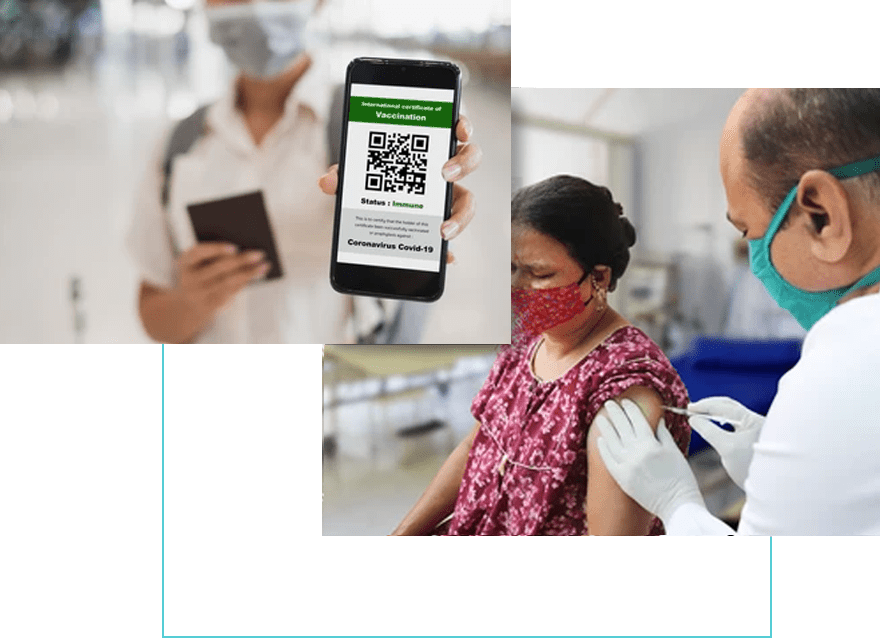 Reimagining

technology for public health
The health mission at eGoV aims to expand capabilities in public health. The focus is on two aspects: the first is to improve trust in health transactions through public health credentialing. We are already doing this via the Digital Infrastructure for Verifiable Open Credentialing or DIVOC, which can generate approximately 25 million certificates daily. Going forward, we plan to expand health credentialing as a service. Our underlying architecture makes it easily extensible to tackle different use cases.
The second focus is to help countries reduce "diseases of poverty." The World Health Organisation (WHO) estimates that such diseases "account for 45% of the disease burden in the poorest countries" and stem from poor nutrition and sanitation, absence of health education, and indoor air pollution. We want to help countries reduce this by creating a platform for disease surveillance, and building digital tools to enable and manage health campaigns as well as mass drug administration.
Our dashboard helps countries track and monitor an ongoing event, as well as create customised reports.
This can be used by citizens before and after a health event to register themselves, book appointments, and download and verify certificates.
This app enables administrators of a health programme to conduct daily tasks at a facility such as registration, and verification.
This can be used to get administrative feedback. It can also be used by citizens after a health event such as vaccination to report side effects.
Allows countries/issuing authorities to generate digitally verifiable certificates after a health event. The module can also be used to distribute, update, and revoke certificates.
Helps establish registries for a health programme, create appointment schedules, set up facilities and roles, and enrol recipients, among others.
The health mission started with DIVOC, which was created in December 2020 as an open-source solution that can issue digital certificates and drive public health programmes at speed and scale. India is the first country where DIVOC was implemented – it went live in January 2021. Since then, over 2 billion COVID-19 vaccination certificates have been issued via the CoWIN platform in India, using DIVOC. Certified as a "digital public good" by the Digital Public Goods Alliance (DPGA), our certificates are valid in over 120 countries today. 
Other countries that have implemented DIVOC's certificate module include Sri Lanka, the Philippines, Jamaica, and Indonesia.
Over 2 billion
COVID-19 certificates issued in India, Sri Lanka, Philippines, Indonesia & Jamaica
DIVOC has also collaborated with the Indian Council of Medical Research (ICMR) to generate COVID-19 test certificates in India so that citizens can easily access and download their test reports.
Over 1.2 million COVID-19

test reports issued in India
We are a group of thinkers, doers, and catalysts who use technology and work with all actors in the ecosystem to resolve real-world problems. We are looking for people who share the same passion and excitement to change the world!