Municipal Employees: Andhra Pradesh Impact Performance Report
At a glance
32 Net Promoter Score, on a -100 to 100 scale. The Net Promoter Score ® — a common gauge of satisfaction and loyalty — of 32 is good. Promoters love
the improved public engagement and the efficiency of the system. Detractors complain about technical issues with the app. 
The top reported outcomes are:
Improved and organized grievance management
Decreased effort in public engagement
Time savings when resolving grievances
91% report experiencing 'no' challenges with the Pura Seva app
Profile & COVID-19 Impact
19% live in the bottom 60th of India's population
74%  used at least one financial coping mechanism. The use of financial coping mechanisms is indicative of employees' vulnerability to financial shocks. Using savings and finding new or additional work were the top two mechanisms that respondents reported using. 
Download the PDF to access the entire report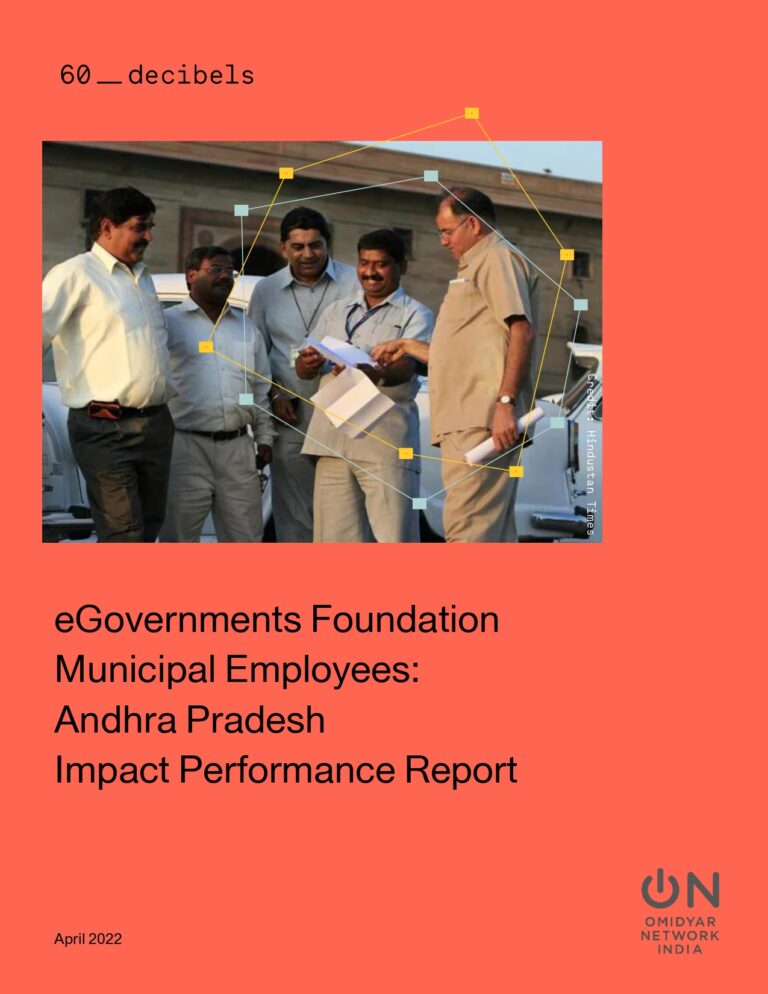 This report is generously sponsored by Omidyar Network India (ON India), who partnered with 60 Decibels, a tech-enabled impact measurement company, to listen to the employees, beneficiaries, and partners of their grantee organizations and investee companies. 60 Decibels conducted interviews with stakeholders of 23 ON India portfolio organizations to understand their experience, impact and profile. This report summarizes the insights from interviews with eGovernments Foundation's municipal employee users in Andhra Pradesh.
License and Republishing
eGov Foundation reports may be republished in accordance with
CC BY-ND 4.0