Digital public infrastructure for state governance
Ideas42 collaborated with local governments and technology providers in Brazil, South Africa, and India to develop and test behavioral solutions aimed at improving government responsiveness. In India, we partnered with state government in southern India and eGovernments Foundation (eGov).
With the objective to standardise municipal governance processes across all Urban Local Bodies (ULBs), improve service delivery to citizens, use real-time transaction data, and improve employee tracking & accountability across ULBs, the State government implemented a data-driven approach by leveraging digital technologies in their municipal governance systems. eGov was managing the State government's request-submission platform through their flagship service delivery and governance platform DIGIT – Digital Infrastructure for Governance Impact & Transformation. DIGIT provided integration and standardisation across modules of Revenue, Expenditure, Administration, and Citizen Services. The revenue module includes property tax, water charges, administration tax, trade licenses, and land and estate, which is facilitated through the City/State Dashboard. The expenditure module includes works management, payroll, pension, inventory, and assets that are facilitated through the Mobile Application. DIGIT allows the integration of citizen services with a Geographic information system (GIS) which includes grievance redressal, building plan approval, birth and death, marriage registration, and the citizen portal. The implementation of this platform led to 96% of employees reporting improvements in their quality of work with 27% of all employees reporting it had 'very much improved'. 99% of employees reported spending less time on documentation and reporting. The average time saved was 7 hours amounting to a 68% reduction in time spent as compared to before DIGIT.
In order to further improve efficiency and provide faster service to citizens, the State government partnered with ideas42 and eGov to incorporate a behavioral design approach to study their processes and design solutions. For our study, we worked with the Municipal Corporation of one Urban Local Body (ULB) in the State, serving a population of 8.5 lakhs.
We piloted our solutions in the revenue department of this Municipal Corporation, which received ~12,000 property-related service requests from citizens each year. Data analysis indicated that almost one-third of them took longer than the 15-day Service Level Agreement (SLA) for resolution, with most delays occurring in the first three approval levels in a hierarchy of 6 to 7 levels. We employed behavioral design to expedite the completion of tasks by lower-level revenue officials and improve overall resolution time for citizen requests.
Behavioral barriers affecting timeliness To understand the potential behavioral barriers that might be hindering request resolution, we conducted a behavioral audit of the digital platform and interviewed officials across all levels in the revenue department. Our analysis revealed three key behavioral insights:
#1: Requests that require forwarding to the next level in the hierarchy may go unnoticed.
#2: Focus on overall time limit (SLA) detracts attention from the time taken by each official in the hierarchy.
#3: Officials do not perceive a need to improve their own performance.
Behaviorally-designed interventions to improve resolution time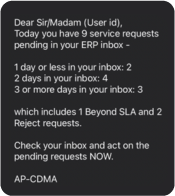 In collaboration with eGov, we identified two channels to implement behaviorally-informed tweaks aimed at supporting timelier request resolution: text messages sent to officials' phones and design elements added to the platform's Inbox. The designs were based on the principles to highlight time limits at each level of hierarchy to make it easier to notice service requests and decrease the chances of requests being missed to support more effective prioritisation and planning for the officials.