e-Governance Maturity Framework
Over the past few decades, there has been a large shift in the role of government in society, and correspondingly in societal expectations of good governance. This has been accelerated by the spread of information technologies, which have had a transformational impact on
the availability of information and speed of interaction in our daily lives.
The Government of India (GoI) has through the years recognized and adapted to these trends, seeking to drive growth and good governance through technology. GoI has also adopted technology to improve administrative functions, including the governance and delivery of services.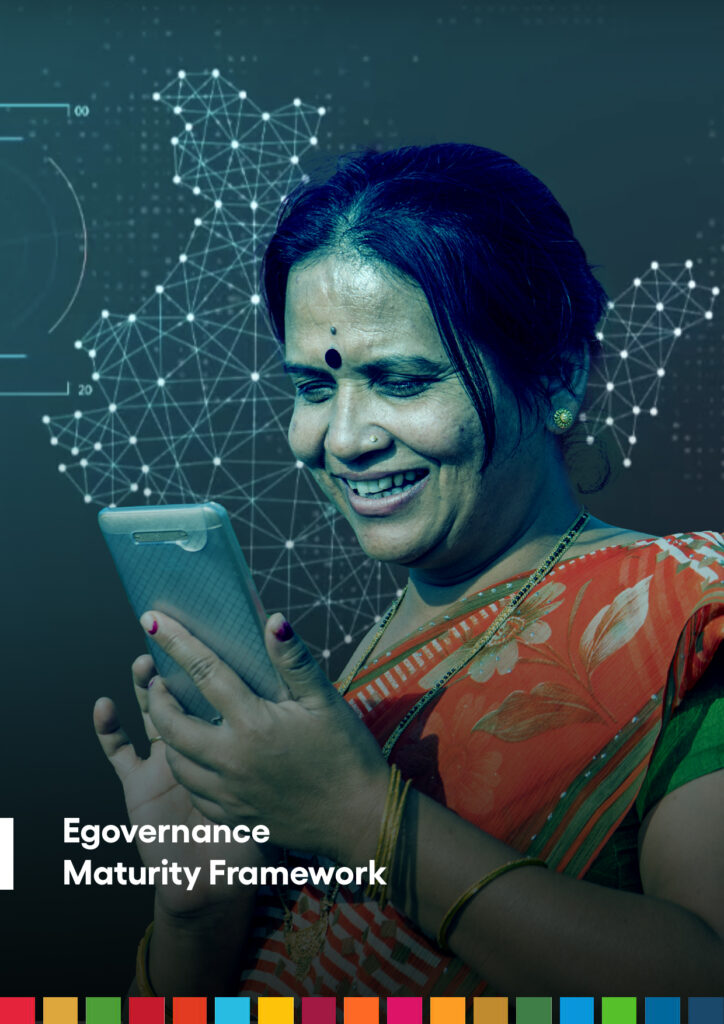 Looking at the history of technology-oriented reforms specifically in urban India, two major initiatives laid the foundation for digitization of Urban Local Bodies (ULB). In 1994, the (USAID-supported) Financial Institutions Reform and Expansion Program – Debt and Infrastructure (FIRE(D)) Program focused on creating computerised financial management, resource mobilization, and project development capacities1. It was followed a decade later by the Jawaharlal Nehru National Urban Renewal Mission (JNNURM)2, which focussed on improving existing service levels in a financially sustainable manner.
Support for e-Governance continues to find a place in the Government of India's priorities. JNNURM's successor, the Atal Mission for Renewal and Urban Transformation (AMRUT), has mandated implementation of e-governance reforms as a condition for funding. Initiatives such as UIDAI, e-KYC, and UPI have further sought to incorporate digital methods into both government and private functioning in various fields. 
Governments at every level across India have evolved new structures and processes to ensure greater utilization of scarce resources and improved responsiveness of governments to citizens and industry. Some key examples are the emergence of "single window" application processes for various industries, the creation of internet-based channels for seeking and receiving applications or communicating with government entities, and the leveraging of technology to reform and streamline processes such as Direct Benefit Transfers (linked to Aadhar), Passport e-Seva, and corporate reporting (through MCA21).
About The Authors
Aditya Batra is an Associate with the Policy Initiatives team at eGov Foundation and is interested in the intersection of technology and public policy challenges. He actively works with eGov's civil society and non-profit ecosystem to build new partnerships and manage such co-partnered projects. Currently, he is focused on building a coalition of partners for expanding adoption of online municipal services across the digital divide. Aditya completed his MBA from MICA, Ahmedabad and undergraduate in commerce from Delhi University.
Ameya Ashok Naik is a Senior Manager with the Policy Initiatives team at eGov Foundation. He works on developing frameworks and partnerships to assess and improve the impact of eGov's work. He holds a BA and LLB from Mumbai University, and a dual MA & LLM from the Fletcher School of Law & Diplomacy.
Krishnakumar Thiagarajan is Vice President at eGov Foundation. In his journey with eGov, Krishnakumar has focused on creating and deploying solutions seeking profound outcomes in urban governance. He has more than two decades of experience spanning leadership roles such as at Tech Mahindra where he spearheaded new practises in the company. He began his career as a strategic consultant. He is a Six Sigma Black Belt and holds an MBA from SP Jain Institute of Management and Research.
License and Republishing
eGov Foundation reports may be republished in accordance with
CC BY-ND 4.0