Sanitation: First visit to Odisha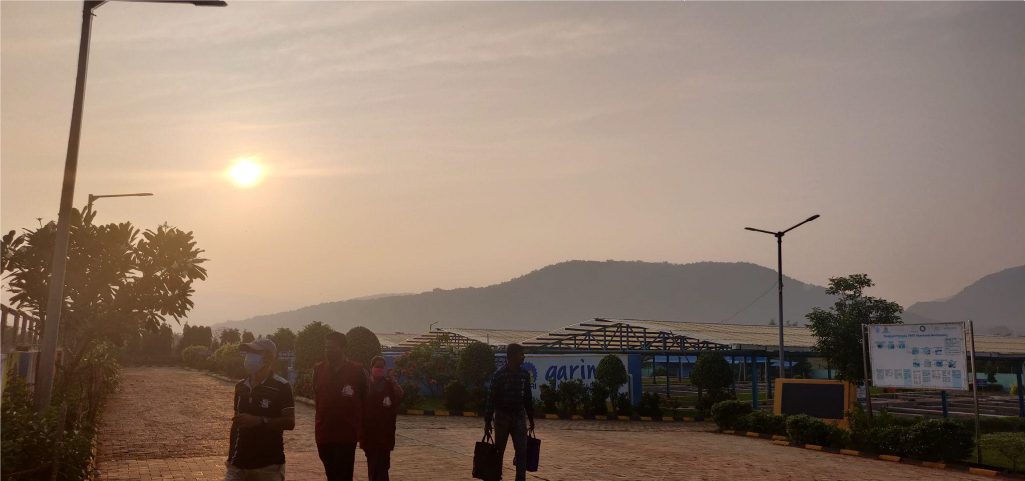 Reached Bhubaneswar on Tuesday evening, in good spirits. I was still trying to decide if I should try to meet our funder, to go to one of our pilot sites or just sit at the hotel and prep for the All Hands on Thursday that I had actually come for. (More on the All-Hands is for another time, maybe!). Given that I had come all the way here, I decided to choose the field visit to the 'Model FSM Town'- Dhenkanal. 
Dhenkanal is a 2-hour bumpy ride from Bhubaneswar. The Highway was under construction 3/4th of the way and the car vibrated all the way to the Municipal Office. Once we reached though, the Municipal Engineer welcomed us with bouquets. I wondered why we were important enough for them to go out of their way with a group of 4 people (basically all the folks working in the sanitation division) to welcome us!
The Anxiety
We sat down, snacks and coffee came in 5 minutes but we only wanted to know about the app.  "Get down to business", I thought. Swapnil had visited another ULB the day before and said no one had started using it yet. Posters announcing the app launch had been stuck outside the call centre. They looked very freshly stuck but they started falling from the edges within half an hour- not a good sign, I felt. 
The District Coordinator, Priya, said "I've done the training, but it'll be good to hear from you- I have done this only on test instance. I was about to say, it doesn't really matter but that's when a customer walked in and gave his request. We asked him if he would want to make an application online- easy we said, just scan the QR code. He didn't have a QR code scanner – no payment apps! (This could be an anecdotal use case of no QR scanner!) We let him go since he was in a hurry and told the ULB team that we could input his request online right then and there. 
The Municipal Engineer and Sanitation inspectors were not very interested- they weren't responsible for actually taking the request online. Sulochana- the call centre operator was the only one who needed to learn this at the ULB level. She had a lot of queries and concerns already raised by her to the DC who had also sharedthem with  us. Sulochana had 3 posters within the room but had not opened the FSM module even once on her own on her phone or the desktop. We said let's do this together on the desktop. At that point they said, why don't you do this on the big screen in the conference room, that way all of us will see. Another poster fell from one of the edges. 
The impromptu training session
Swachh Saathis also happened to be in the municipality at that time and we were told that they would be distributing the IEC/ app publicity leaflets, why don't we train them too. They have smartphones, use whatsapp and shopping apps! Somehow, I was now doing user training for 30 people- with no prep! These ladies were waiting for me – the 'madam' with a laptop, but I had not prepared for it. (Not that using the app needs a great deal of prep, I had tested it a couple of times and knew the flow but I felt they deserved more respect for their time and presence.) So we got started.

Me: Phone number daaliye, OTP aayega (Enter your phone number, you'll get the OTP)
One of the Swacch Saathi- Kalyani : 'OTP toh nai aa raha hai madam', (OTP is not coming)
Me: Resend daba lijiye- (Press Resend)
They had no clue what 'Resend' was. Some people were typing their names instead of phone numbers because they didn't know english. I realised that Odiya is going to be crucial in the future. (Now, I do realise Swacch Saathis are only going to publicise this app' but also in the state with <20% urban population, Swacch Saathis are probably representative of a sizable %age of people if not a majority). 
We finally reached the application submission stage and they submitted the application. We showed them how they would get SMSes, how once approved they need to make payments etc and then it was time for them to leave, so they started moving out. The ULB folks or DC didn't even handover all the leaflets. One lady came to me and said- Woh Ama Sahar toh play -estore mein dikhaate hain nagrik ko, yeh kahan dikhaye.' (Citizens are able to see the Ama Sahar app on the playstore, where can they find this?) I realised we don't have the app. (I wasn't aware that there is no app for SUJOG yet and we probably don't need one for a once in 3-5 year activity, but again, I thought how am I not prepared enough to know this!) I pointed to the leaflet and said isko type karna hoga, yeh bata dijiye. (They need to type the URL on the leaflet, just tell them that)
(Note that I was using hindi and hoping they were understanding it fully). 
The DC, Priya, came to me and said please show Sulochana also her steps. Again, she clarified, maine dikhaya hai, but ek baar aap bhi kar do. (I have demo'ed already, but you also show the steps once). I realised that we needed better user-training templates and more importantly, assess the capacity built post training. We realise the login is not made for Sulochana, it has the mobile number of the Data entry operator. Got the OTP from him and I changed the password, took her through the process…..showed DSO login- the number given in our database is the the SHG president's and not the actual DSO who operates the service. Why, I asked. Pata nai, humne nai diya hai, (Don't know, we didn't give the number) said Sulochana. 
Finally we said okay, now you have to start taking requests- whenever a citizen comes to the Municipality, you open the FSM module and enter there directly, not the register. 
Sulochana said main toh kar lungi, but FSTP mein toh network nai aata, Suresh (the operator) kaise karega. Fir uska login bhi main hi le lun kya? (Sulochana said she'll do it, but FSTP a very weak network, how will Suresh, the FSTPO do it? Should she take his login and do it?)
(Btw, Sulochana, DSO and Suresh are 1 team from the same SHG! So where and why will a cross verification happen within these players, I'm not sure?) We decided to go to the FSTP as well to meet Suresh.
As we headed for lunch before going to the FSTP, it struck me how on the next day, we would sit in a fancy resort with our funder and other teams to discuss the fate of missions and programs in a place ( with bad phone network and such bad roads) so far removed from our realities! (This is not a new revelation, just the irony was more evident somehow)
Are we capable of building for Bharat? Are we doing them justice? Are we truly building with the local communities? (No, I don't think the E&Y DC is the local partner, she was smart and quite capable, but she didn't represent our average user or their profiles). 
The true learning in this training session was for me, the trainer, not the trainees.
But there's hope!
The second half, however, gave me so much optimism! Well, network is definitely a problem. But the SHG president and the operator were so good at their job! And so proud of the work they do that makes people come all the way from Bangalore to meet them. We went around the plant and Suresh mentioned again that he's quite comfortable with the app, except 'yahan toh baat karne ka bhi network nai aata' (The network is not good enough to even talk on the phone) We wondered if its possible to fill it offline and sync once he goes online… We spoke to Sulochana and Suresh about not being afraid of using the app. It's okay to make mistakes, but it's important to use. They will be the flag bearers of the success of this pilot and the mission! (Ofcourse, passing these messages through their EOs/ Commissioner and the state machinery is going to make the use happen, not us 1 time visitors!)